Hello, this is my first blog post in a while :) I'll keep to a minimalist writing style so reading this blog can be as fast and as helpful as possible.
Credit Cards
A credit card is a payment system. When you use a credit card to buy an item, you are effectively borrowing money from the bank, and you can pay the bank back within a subsequent 25-30 day period.
A credit card is offered by a bank (Bank of America, Chase). Visa and MasterCard are payment networks.
Why should I get one?
Build your credit score
Fraud protection: if you purchased a fradulent item, and you want to cancel the purchase, with a credit card, you can call the bank and get your money back (the bank assumes the risk). However, if you purchase such item with a debit card or cash, your money has been spent and cannot be retrieved.
Rewards: many credit cards may offer 2% cash back, which means you are saving money every time you buy an item.
Foreign Transaction Fees: if you travel frequently, there are credit cards with no foreign transaction fees, which might be a better exchange rate than going to a counter. (Though, different credit card networks may offer different conversion rates).
Why shouldn't I get one?
Tendencies to overspend with credit cards lead to debt accumulation
Interest rates for paying the debt are very high. If you pay on time, though, there is no debt.
Things to look for when choosing a credit card
Is there an annual fee? Usually the credit cards with better rewards also have an annual fee ($95/year), so if your spending
Foreign transaction fees? When using a credit card abroad, you may be charged up to 3% extra for the purchase. However, this fee is waived for many cards.
Signup bonus? Some credit cards may offer 30,000 miles (or cashback) for the first $1000 you spend in the first 3 months of opening a card, which may be a tremendous value!
Rewards? This is the key part of credit cards -taking advantage of the rewards! Whether you prefer cashback, airline miles, AMC movie discounts, etc, you should choose a card that best fits your needs.
Which credit cards should I get?
As I am a student, the credit cards that I'm mentioning are targeted towards my spending category.
General Usage
These credit cards have rewards that are
By far, I'd highly recommend the Citi Double Cash Card. You get 2% cash back on every single purchase with no restrictions. No annual fees, but there is a foreign transaction fee.
(However I think the fineprint states that to get the 2nd percent cash back, you must wait for the transaction to be confirmed before you pay back. Essentially, wait a while before you actually make your credit card payment for this card.)
I'm currently using the Chase Freedom Unlimited, which offers 1.5% cash back, and no annual fees. This credit card also offers $175 back for the first $500 you spend in the past 3 months, so it's better than the Citibank card for up to the first $35,000.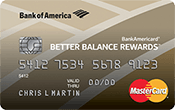 I also have the BankAmericard® Better Balance Rewards™ Credit Card. You essentially get $100 caskback every year as long as you pay in full, so it's a nice credit card to have to get the flat rewards. I'm not sure if it's offered anymore, though.
Airline Rewards
These are the cards that generally I'd apply to, and then CANCEL them once I get the initial rewards so you don't get charged the annual fee.
I currently have the Delta Gold SkyMiles card. Currently, you earn 30k miles (roughly $400) for the first $1k you spend, which is a 40% discount rate! You also get 1 free check-in baggage when flying Delta, and priority boarding, and no foreign transaction fees. The annual fee of $95 is waived the first year, so be sure to cancel it in the first year :)
Keep in mind that the initial miles bonus varies over time (I got 60k miles when I applied), so you may also want to wait for a better miles deal.
I also had the American Airlines Citibank credit card. You also earn 30k miles for the first $1k you spend, plus similar perks with the Delta credit card. I got the initial bonus, and cancelled it because of the annual fee. However, holding onto the credit card is still nice because I can show the card to the gate attendants at the airport and occasionally get priority boarding.
And of course, there's the United Chase credit card. Currently you get 40k miles for the first $1k you spend, and similar perks and annual fee. I don't have this yet.
If you fly other airlines more frequently, feel free to look up their credit cards and their perks.
General Tips
Setup autopay from your bank account, and always pay in full
Get a credit card as early as possible to build your credit score
It's okay to have multiple credit cards open, but make sure you keep track of the finances in such cards.
Conclusion
Thanks for reading! This is meant to be an introduction to credit cards, so I didn't go into many of the rewards details (technically the Chase credit card reimburses you in Chase UltimateReward points which then you can convert to cash, or miles).
I'll try to write on Investing (Robinhood, Bitcoin, Vanguard, RothIRA) next time.