I should probably be writing my thesis for my MEng, but I'll start off kindling the writing part of my mind by procrastinating for a bit.
In the past year after I completed my undergraduate degree, I've been slowing spending more time finding more about who I am. During the MIT undergraduate semesters, which was one of the best times of my life, I had a lot on my plate, from rushing problem set deadline to photography event to party –it was the work-hard, play-hard lifestyle. But I also was a MIT student, one who tried to take advantage of the school's offering as much as I could –and in the past fifteen months, I've had a lot more time discovering my interests and what are my passions.
One of those aspects has been hiking, and exploring the outdoors. I drove back from San Francisco to Boston in November / December 2017, and my love for nature began as we bought a national parks pass as we meandered through Utah, Arizona, and Colorado. Since then, I haven't turned back, and this blog post documents some of my adventures.
Most of my workouts and outdoorsy adventures are logged on Strava (where you should follow me!).
January: The Jay Peak Backcountry Skiing Trip
In January 2018, I went with MITOC Winter school and completed my first backcountry skiing trip. Strava Activity.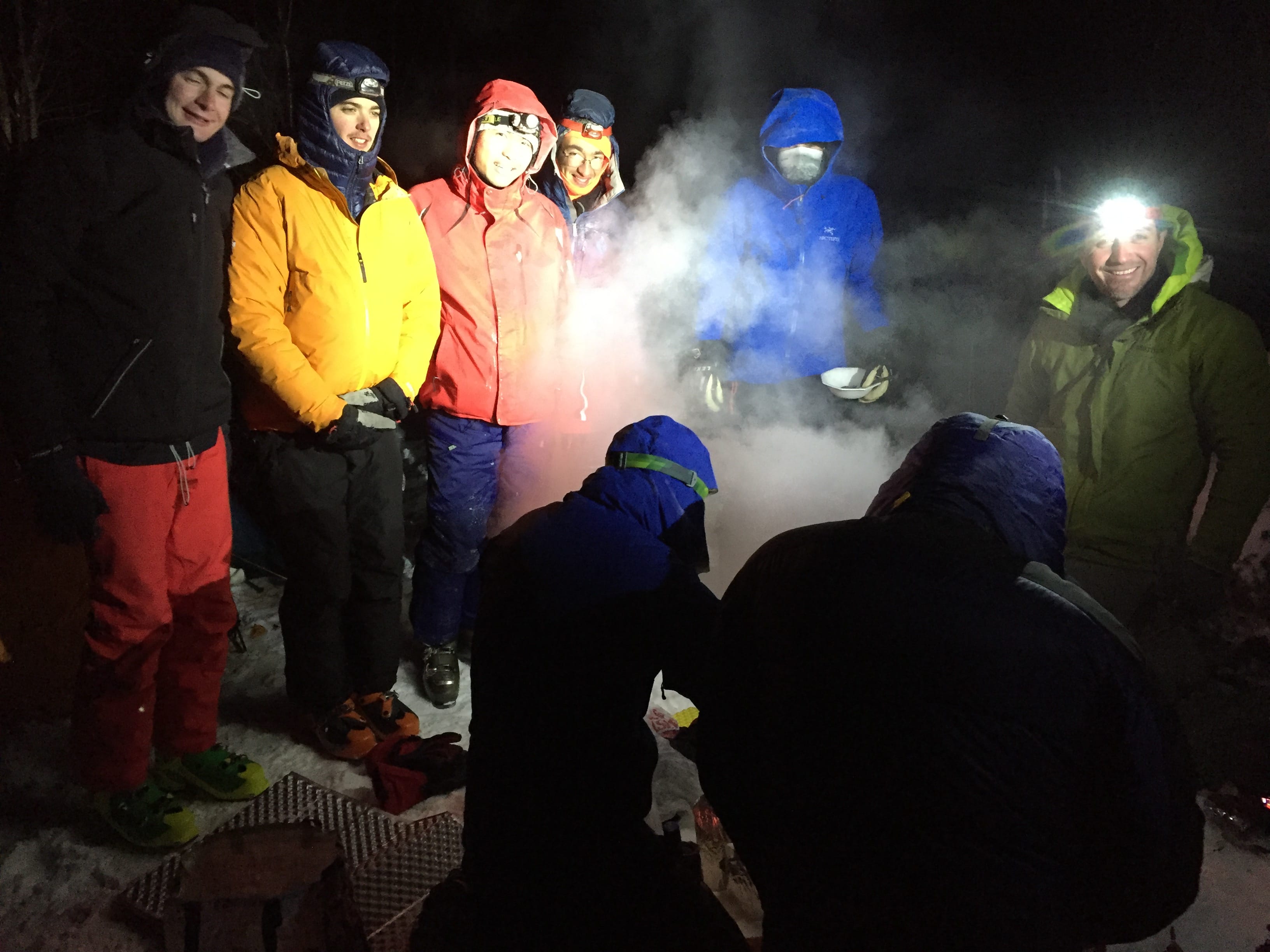 Setting up camp that evening, sleeping in -10F was quite an experience; Jan, 2018
March: Grand Canyon & Utah
Over spring break, Saarik Kalia, Sam Judd and I took a week to go hiking in the American Southwest before spending a degenerate weekend in Vegas. We went to Observation Point in Zion, the Navajo Trail at Bryce Canyon, Upper Calf Creek Falls by Rt 12, the Golden Cathedral in Grand Staircase, Buckskin Gulch, and the Grand Kaibab Trail in Grand Canyon.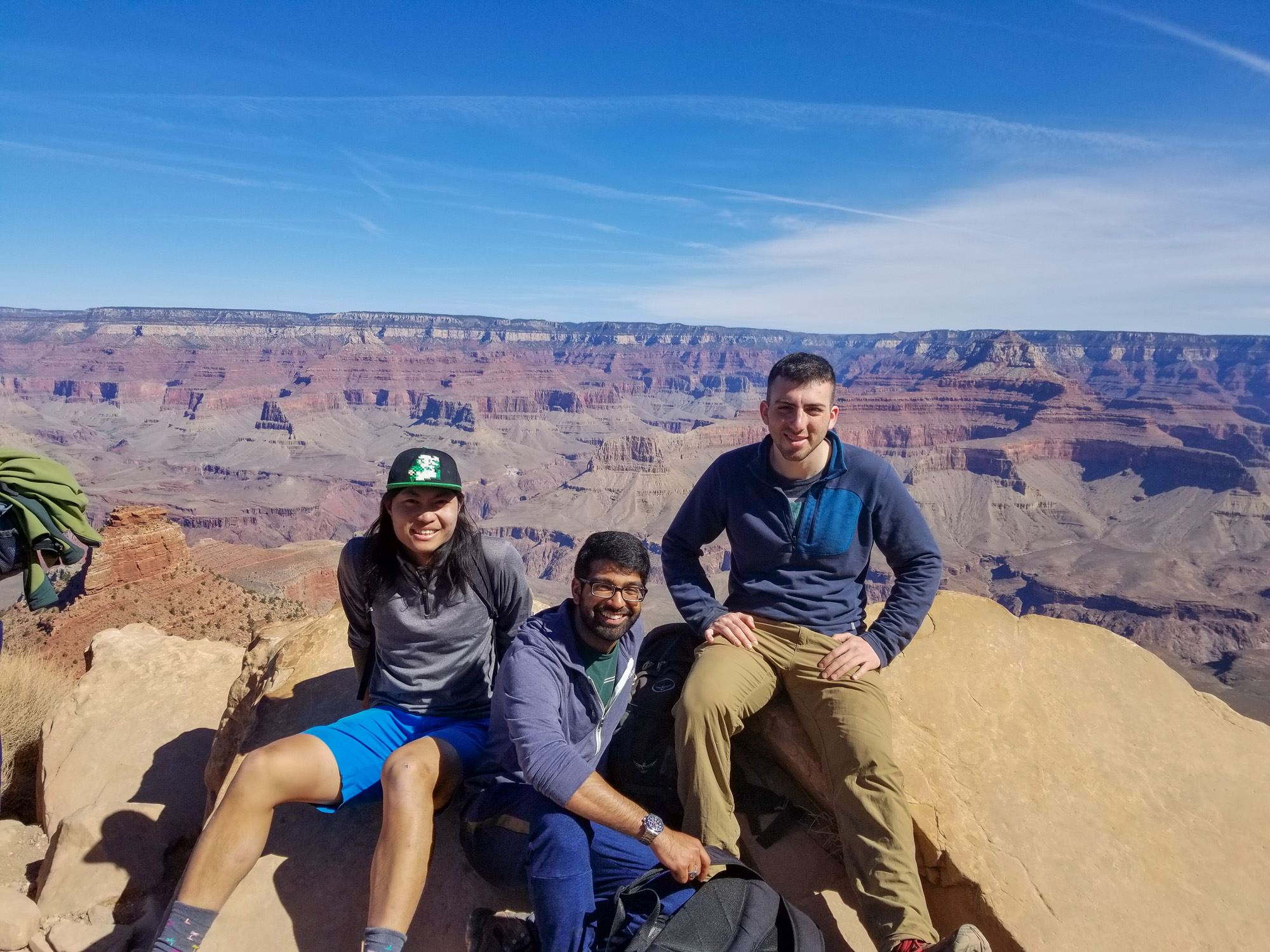 On our way to a fifteen mile hike, to the Colorado river and back; Apr, 2018
My Strava record of the hike
April: The Freezing Franconia Ridge Loop
In April, Jason Liang visited and we decided to go on a winter hike. We chose the Franconia Ridge Loop –little did we know how highly ranked this hike is. Though it was mid-April and there wasn't snow in Boston anymore, we highly underestimated the weather conditions in the whites. Underdressed, by the time we hiked above the treeline it started blizzarding. Both of us ended up with mild frostbite and lessons learned. The epitome of type II fun.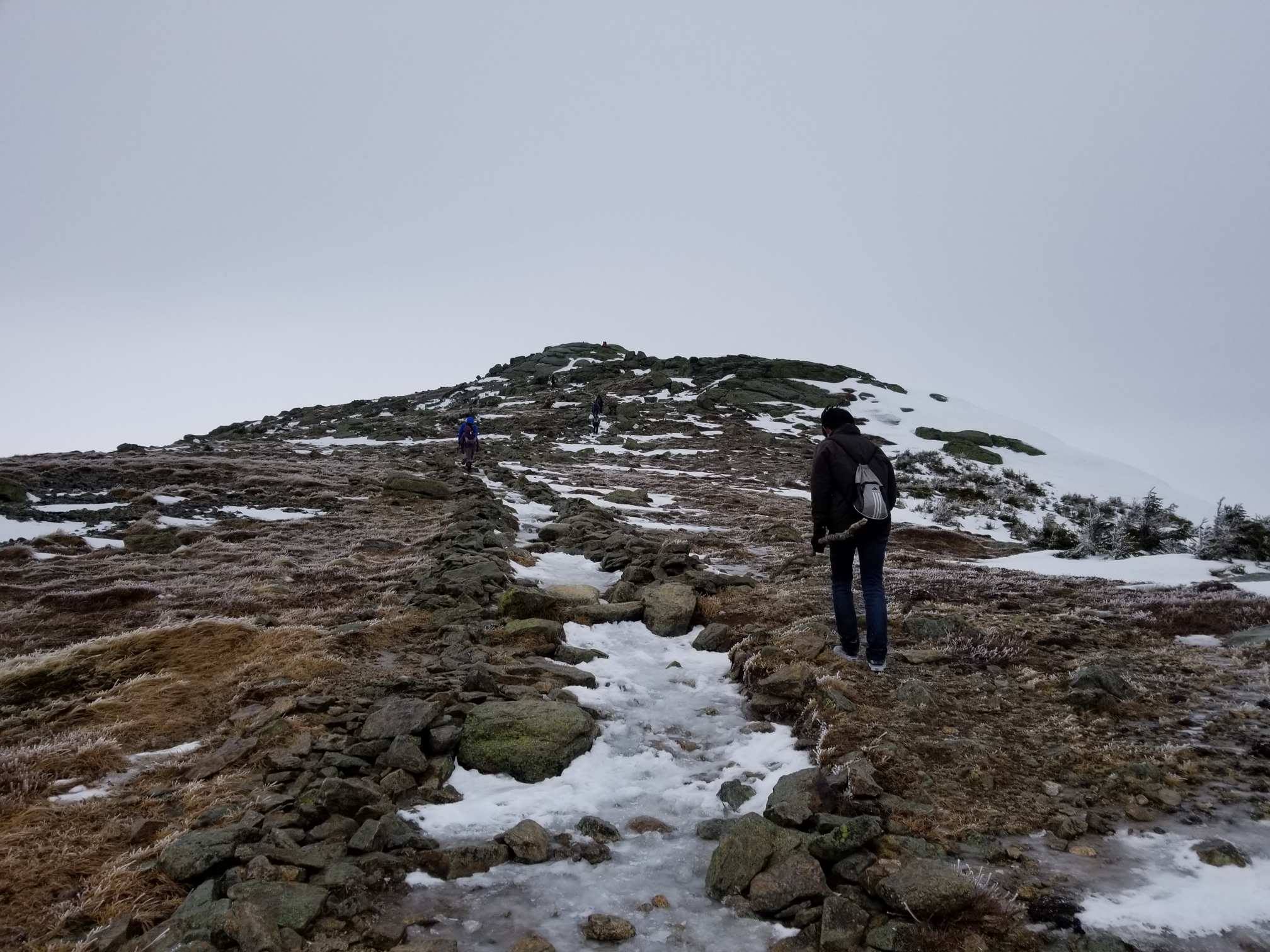 Ominous Clouds as we approach Lafayette; Apr 2018
May: Acadia
In May, I went with MITOC on an Acadia trip. David Yang, Linh Nguyen, and I climbed Cadillac mountain while we were there. I personally found Acadia a bit underwhelming as a national park, especially compared to the sheer magnitude of Grand Canyon, but the views of the ocean from the mountain are quite unique in itself.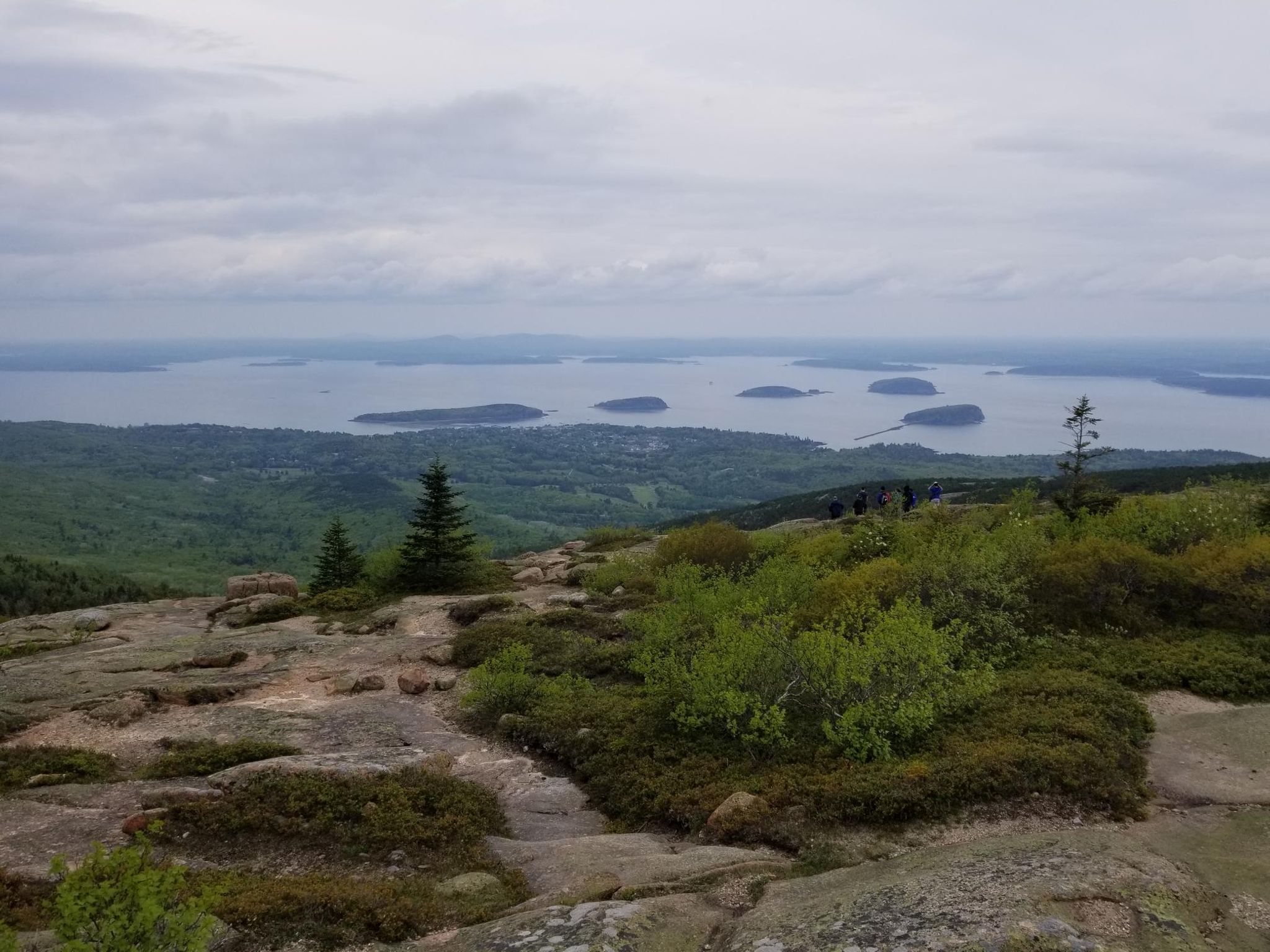 Views from Acadia, May 2018
June: The Presidential Traverse
The longest hike I've ever completed, the Presidential Traverse was an epic sixteen-hour, nineteen-mile adventure. I went with Anish & Ashay Athalye, David Lazar & Joanna, and Max Kessler. I ate four bagels, drank over 5L of water, and had a blast.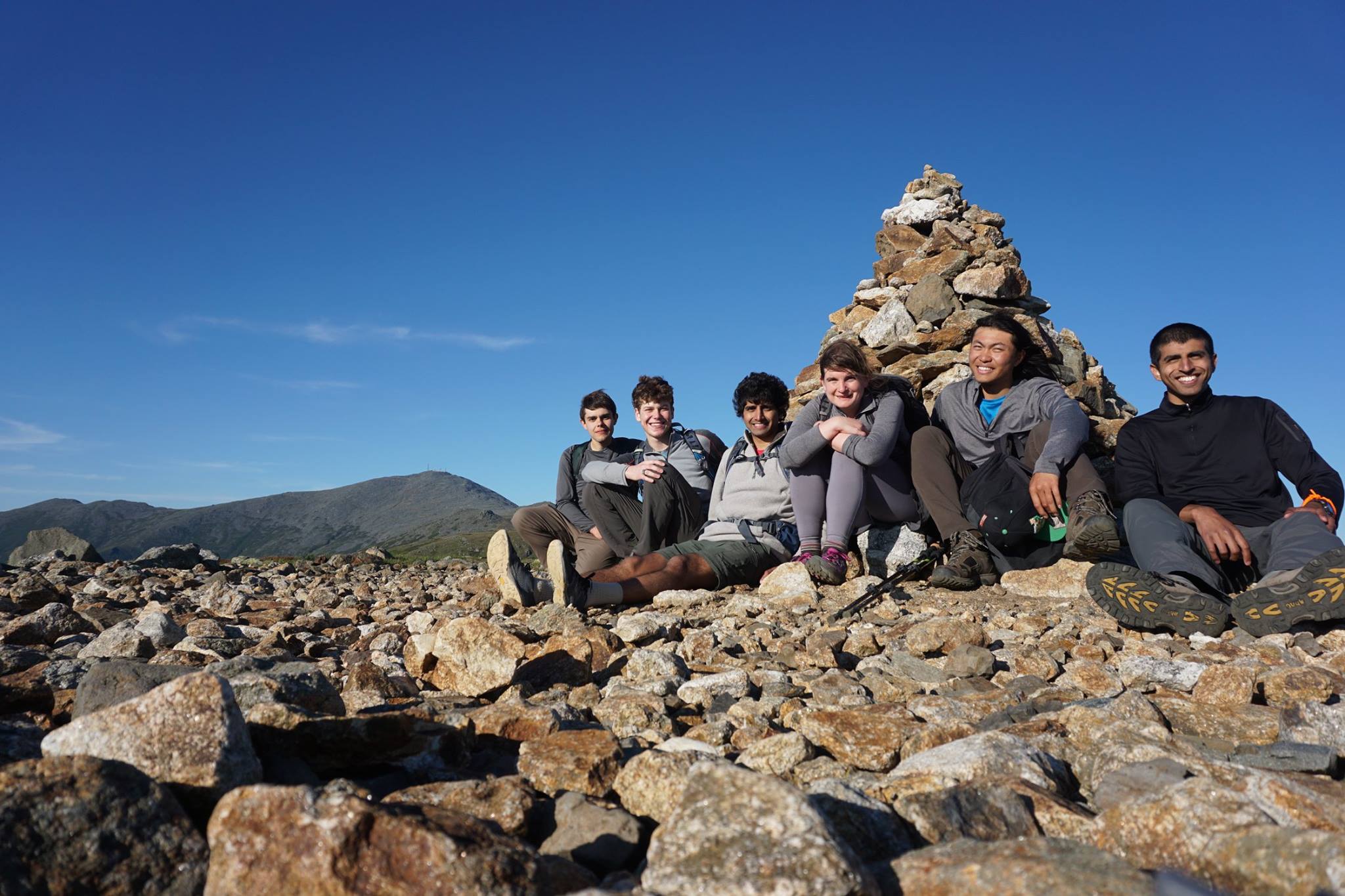 On top of Mt. Eisenhower with Washington in the background; June 2018
August: Mt Siguniang in China
I took a trip to Asia this summer, visiting Japan and China. Originally some friends and I wanted to hike Mt. Fuji, but unfortunately there was a typhoon when we visited. In China, I went with my sister and Liang Zhou to Sichuan, where we hiked Siguniang Mountain (四姑娘山). The logistics for getting there was quite an adventure, as hiking in China was not very well documented. I found a driver to drive us from Chengdu to Rilong town via WeChat, and we did not find a guide for hiking the mountain until arriving there. I found Eylene Pirez's post rather helpful for logistics. The mountain consists of four peaks, in which we were attempting the "elder sister peak" at an elevation of 5025m / 16486ft. I succumbed to altitude sickness at 14,400ft, though my sister and Liang made it to the peak! This was a great cultural experience, and also one where I learned a lot more about the effects of altitude sickness.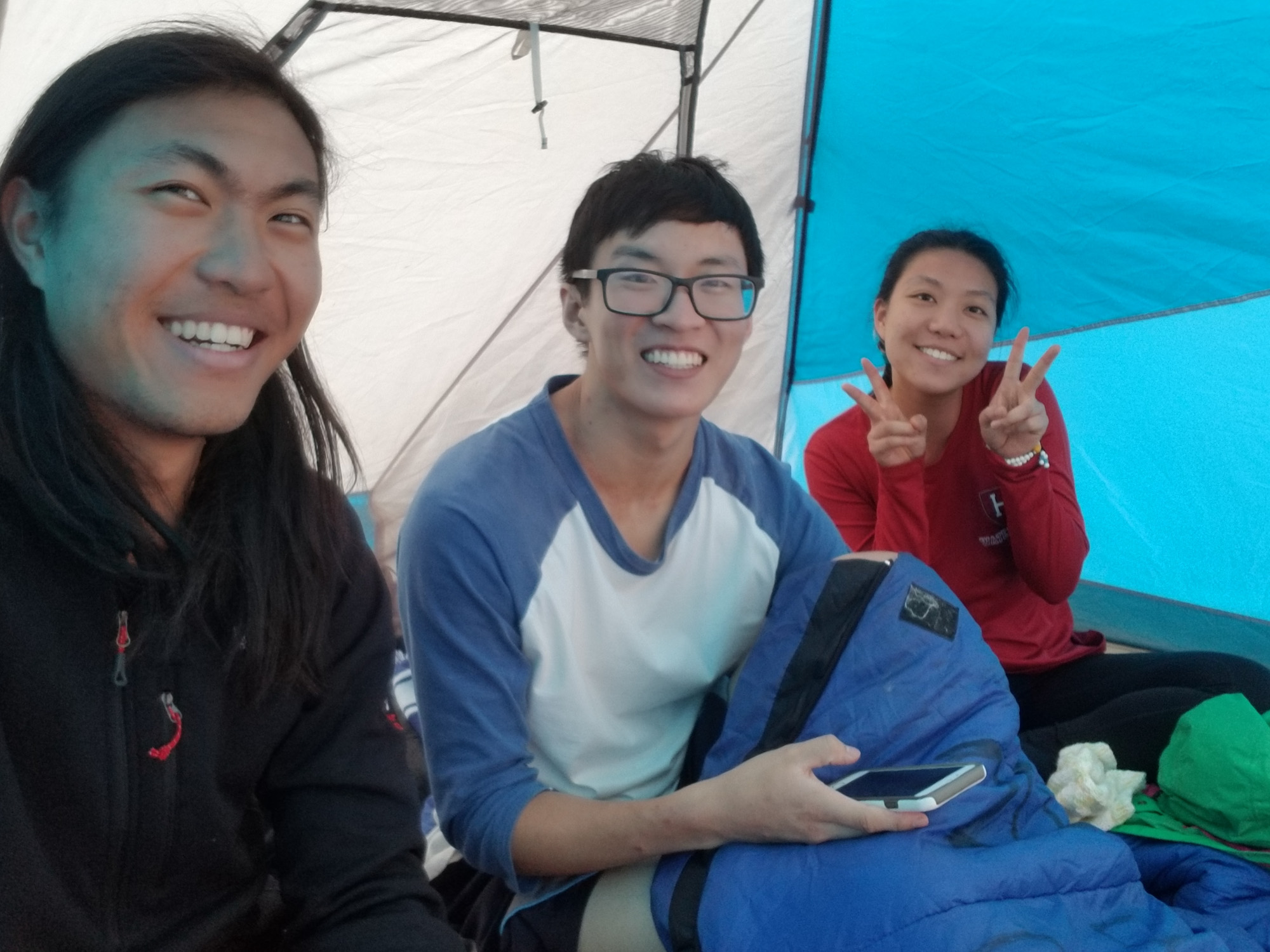 Inside our tent at 14.500ft; Aug 2018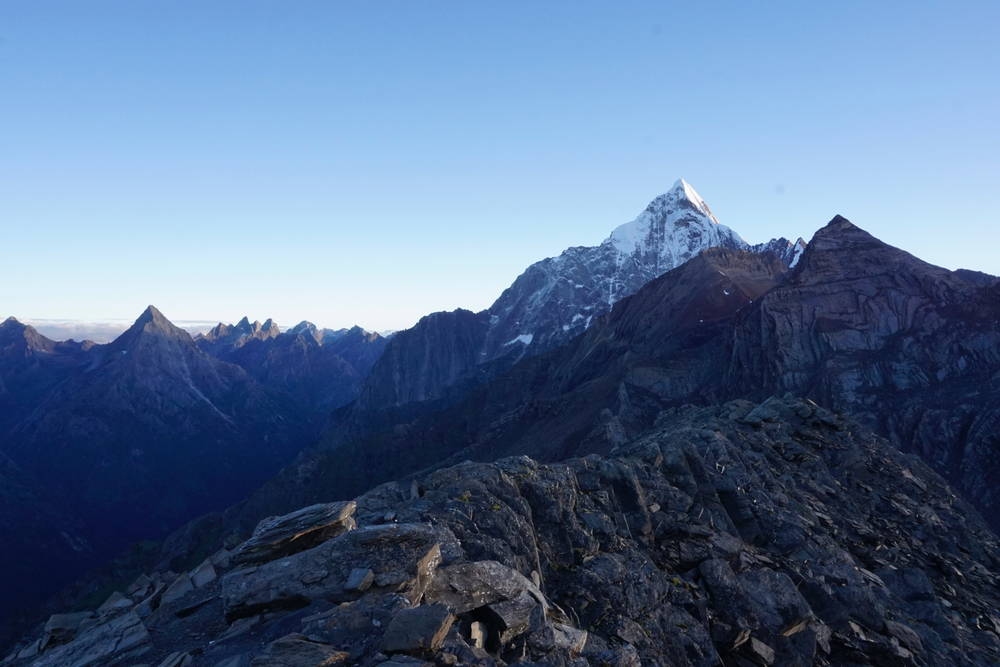 At the summit of the eldest sister, with the highest peak, the glaciated youngest sister in the distance; Aug 2018
September: White Mountain Trips
In the early fall, I made two trips up to the white mountains again. The first was with MITOC through the August circus, and I spent a day hiking the Kinsmans and a day hiking Mt. Moosilauke via Beaver Brook trail.
In late September, I went with the MIT Theory group and we hiked Mt. Liberty.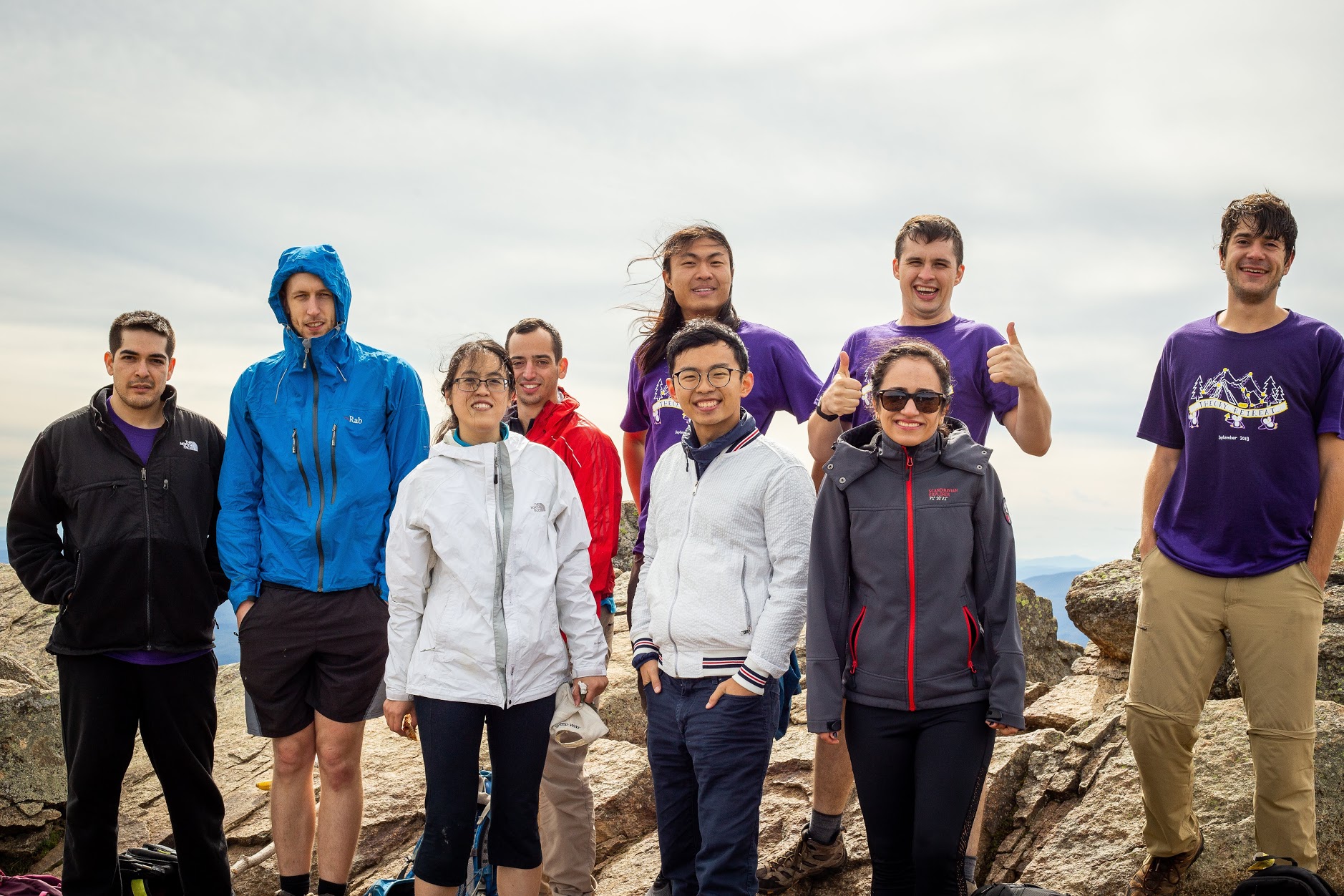 On top of Mt Liberty; Sept 2018
November: Snoqualmie Mountain with Sam Judd
In November, I took a trip to Seattle for job interviews. I stayed the long weekend in Seattle to see friends, and I also knew that I had to get a Pacific Northwest hike in. I had heard so many good things about the hiking in Seattle, and, considering it as a city I may move to, I wanted to see how I would enjoy the outdoors. Sam Judd and I went urban exploring and visited Vance Creek Bridge, and we hiked Snoqualmie Mountain the next day.
Snoqualmie Mountain was truly a unique hike. Though the length was only 1.5 miles from trailhead to summit, the vertical elevation gain was over 3000ft, resulting in a average gradient of 37%. We transitioned from a early-winter condition with light snow at the trailhead, to a full-on wintry hike with two feet of snow at the top. I was also underdressed for this hike, wearing my running shoes, and only able to glissade down the mountain, but the view on top, with Rainier rising above all so majestically, was unparalleled on such a beautiful day.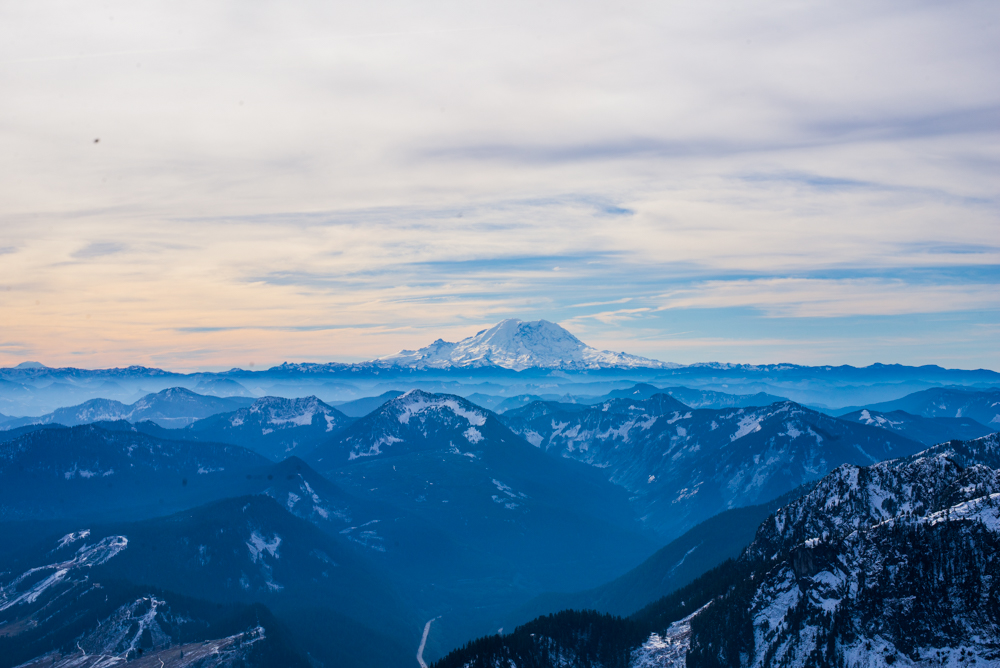 Rainier rising above the rest; Nov 2018
November: Adams Winter Hike
My final hike this year (or maybe this post will be updated over winter break!) was over thanksgiving, when I went with Luke Schaeffer, Anish & Ashay Athalye, my sister and her labmate Matt, and Frederik Mallman. With no wind on the whites, we hiked up Mt. Adams on a clear day.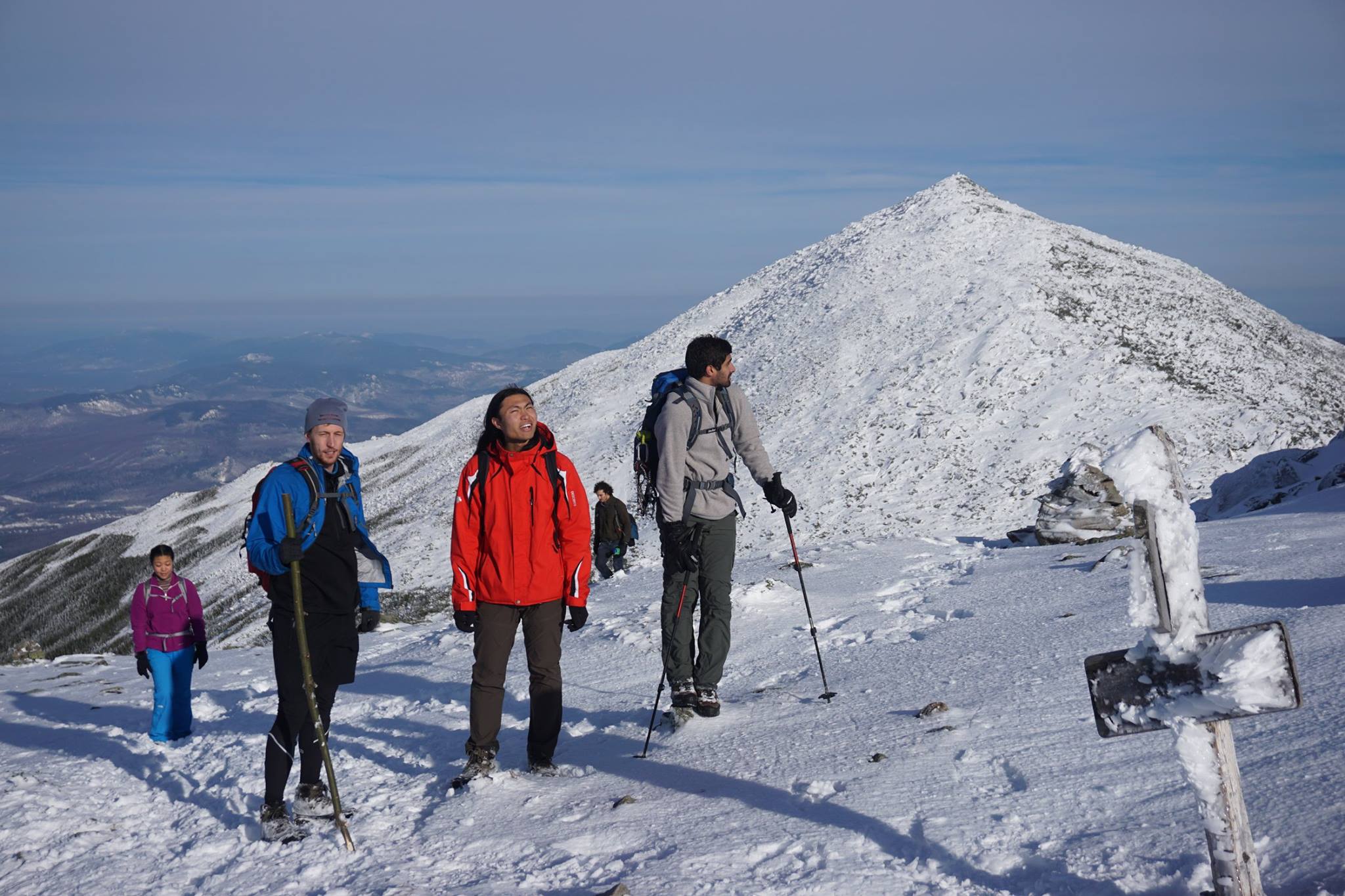 Looking higher, with Mt Madison in the background; Nov 2018
---
The future
I will be in Chile for eight months next year so hopefully I will get some pretty hikes in and who knows where life will take me!
These past few months, I've also began investing more into hiking equipment. Maybe I'll make a blog post sometime writing about my gear, and what I find helpful.